Love Perpetua Shine Drops from EVO (50ml)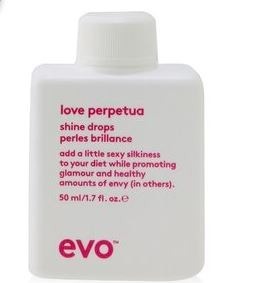 Say hello to gorgeously glossy hair with the Evo Love Perpetua Shine Drops (50ml). This lightweight glossing liquid reduces frizz and flyaways. Hides split ends. Can be mixed easily with all products to boost condition and shine. Increases combability. Adds incredible shine. Recommended for dry, coarse hair.
How to use
Apply to dry hair, focusing on the lengths and ends.